Puppy Yoga & Bubbly
North America's favourite new wellness experience for dog lovers
Is Puppysphere in your city?
We're taking over the world one puppy yoga studio at a time. Join us at one of our studios across three North American cities.
The Puppysphere Experience.
We are known to host the most elevated puppy-yoga events in North America, so you can trust your group is in good hands. Puppy Yoga & Bubbly is an unforgettable wellness event that includes 45 minutes of yoga and 30 minutes of chill time - all with a litter of adorable puppies.
Bottomless mimosas
Feeling bubbly? Choose from three delicious mimosa flavors, or non-alcoholic options.
Yoga Mats Provided
Keep your commute light - we offer complimentary yoga mats for your yoga class.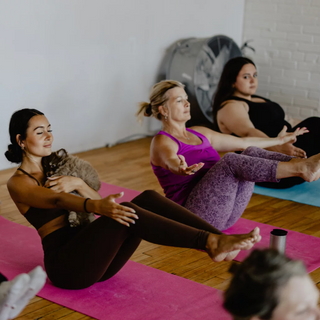 Beginner Friendly
Our classes are designed for the beginner in mind! No previous experience required.
What is Puppy Yoga?
The most adorable yoga class you'll ever take. Puppy yoga is much like a typical yoga class but with the adorable addition of puppies roaming the studio. The puppies will play, cuddle, and mingle with you as they pass from mat to mat. Expect the unexpected as the puppies are looking to make friends (or rivals) with humans and litter mates.
We partner with local breeders and rescues to put on our puppy yoga and puppy social events. Learn more about our dedication to puppy care and wellness here.
It's good for the puppies too
Did you know you're helping puppies socialize when you attend one of our our yoga classes? With gentle handling and exposure to plenty of new people and activities, it helps puppies build confidence and grow into happy adult dogs.